Welcome to the Town of Rocky Ripple!
The town of Rocky Ripple is a small nature friendly oasis located on the northwest side of Indianapolis, in Washington Township within Marion County, Indiana. The town is nestled between the Central Canal and the White River; only two traffic-supporting bridges over the canal provide access to the town, thus resulting in the town's slogan "I'm not lost. I live here" that appears on Rocky Ripple bumper stickers. The slogan was created because of the many drivers that have gotten lost by crossing one of the bridges into the town and being unable to find their way out over the years. 
Based on the latest 2020 data from the US census, the current population of Rocky Ripple is 652. Rocky Ripple, Indiana is the 12,201st largest city in the US. It was founded in 1928; and the town was incorporated as an "included town" as part of Unigov in 1970.
Situated near the Broad Ripple area and adjacent to Butler University and the Butler Tarkington neighborhood, Rocky Ripple offers a high quality of life coupled with low property taxes and convenient access to shopping, recreation, and downtown Indianapolis.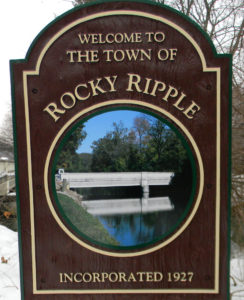 Monthly Rocky Ripple Town Council meetings occur the second Tuesday of each month at 7:30 pm. Meetings are held at the Rocky Ripple Town Hall and can also be accessed through Zoom:
Topic: Rocky Ripple Town Council Meeting
Time: 07:30 PM Eastern Time (US and Canada) Every month on the Second Tuesday
Join Zoom Meeting:
https://us02web.zoom.us/j/87132754675
Meeting ID: 871 3275 4675