Attend the Festival this Saturday!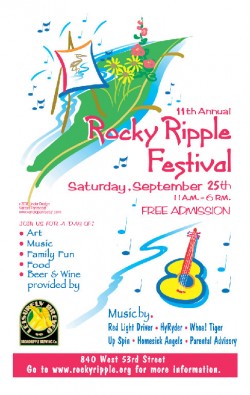 Hohlt Park will be home to Rocky Ripple's 11th annual Art Festival from 11 am to 6 pm. To find out more, visit the Community Association Web site.
THANK YOU to the Community Association and the many community volunteers who make the Festival and so many other events possible in Town!
Fountain Park Update
Thanks to an IPL Golden Eagle Grant, made possible earlier this year through the Center for Urban Ecology at Butler University ([email protected]), ecological restoration is in process at Fountain Park, located at 53rd Street and Patterson. So far, mulched trails have been created, some native plant seed has been scattered, and invasive honeysuckle has been removed from the interior of the park. Benches and a new sign will be installed, and educational programs will be scheduled for the community. This property was originally donated to the Town by Butler University and has been rezoned as a park.
As the work continues in the park, residents are invited not to dump debris or build fires in the park.
Continued Dry Conditions Require Extra Care
Mayor Announces Burn Ban
With Rocky Ripple having received only just over 1/2 of an inch of rain since the beginning of August, residents are urged to take care not to accidentally spark a fire. According to Indiana officials, "seemingly harmless actions such as driving over or parking on dry grass, or dropping a lit cigarette on the ground could cause a sizeable fire."
For more information on how to prevent fires, read the notice issued last week by government officials:
http://www.in.gov/portal/news_events/57515.htm
Despite Wednesday's scattered showers, a burn ban has been declared in Marion County.
Update on Jansen Case
Last Wednesday, Anne Jansen was convicted of two counts of D felony theft. She had been accused of stealing money from the Town of Rocky Ripple and the Rocky Ripple Community Association (RRCA), respectively, when she served as Clerk/Treasurer and Treasurer. The guilty plea comes nearly two years after Council President Robert Tomey filed an embezzlement report against Jansen after he was notified by Jansen's family that she had committed the crime to support her gambling habit over a number of years while in service to the community.
REPORT THIS AD
According to Matthew Bavender, deputy prosecutor at the Marion County Prosecutor's Office, Jansen plead guilty to both charges and that the sentences for both counts will run concurrently. He said the judge had full discretion on all sentencing, handing Jansen one year probation minus the time she had already served.
Mitigating factors in the case included the unlikelihood that Jansen would commit this type of crime again, Jansen's age as well as her lack of prior criminal history. Aggravating factors included the position of trust Jansen once held in the community as an elected official.
Bavender added that Jansen is required to seek help for her gambling addication while on probation. He added that final restitution to the Town and RRCA has not been determined, noting that the money she already has returned to the RRCA and the $30,000 bond that was paid to the Town will be subtracted from the total amount of money she owes.
Jansen was accused of taking $60,320.90, according to the State Board of Accounts (SBOA) report. (That amount does not include that which was taken from Community Association accounts.)